Social Media Trends is always a fascinating topic to talk about. Despite all of the shifts in digital marketing over the last decade, social media has not only survived but has grown year after year to maintain its position as one of the most important marketing platforms in this day and age. Despite its allure, social media marketing strategies (SMM marketing) are far from simple. Constant updates, intense competition, and rapid market changes, as well as consumer interests, privacy regulations, and, of course, technology, all collide in a melting pot that is both frustrating and prominent.
These rapid developments present a whole new set of challenges for brands and social media marketers, who must continually evaluate their current strategies and pivot to include new forms of content in their arsenal. Marketers must constantly monitor the current developments shaping the future of social media and adapt their strategies accordingly.
Nobody can argue that 2020 has been a rollercoaster of a year — and it isn't over yet. 2021 is revealing its own set of developments in various ways, from how consumers behave to major changes in platforms and the digital landscape in general. Here are just a few of the upcoming social media trends that marketers need to stay on top of.
1. SEO Drives Organic Instagram Visibility
When it comes to preparing for 2021, particularly when it comes to Instagram marketing, there are two things that every marketer should consider: SEO and Reels. Instagram will become more search-friendly, according to an official announcement.
This will be game-changing for advertisers, as we would foresee more chances for posts to reach a wider audience. To get the most out of this update, make sure your captions have important keywords that will help Instagram figure out what's being seen or discussed in your post.
To encourage your followers to "save" or "share" your Instagram reel, include text in your video material to maximize watch time. Also, include a value-based caption to encourage them to "save" or "share" your Instagram reel. Remember that while your Instagram reel will stop people from scrolling, the meaning you add in the caption will inspire them to engage with your content. This will help your content rank higher in the search engine results.
2. Live Streams Will Remain Popular
Many companies went digital to preserve social distance and avoid the spread of COVID-19 during the global health crisis of 2020. Live shows are now live streams of musicians performing from their homes, and face-to-face meetings are now Zoom or Google Meet conferences.
As a result, the use of live streaming features on social media has increased. Messages and live streaming on Facebook skyrocketed, particularly in COVID-19 hotspots like Italy. In only a week, for example, the number of views on Instagram and Facebook Live doubled.
What will continue to evolve in 2021 is that consumers are now able to communicate with brands live without ever leaving their homes. As a result, live streaming will continue to gain traction and should be included in the social media marketing strategy.
3. Stories As A Content Format
As previously mentioned, more than 500 million users engage with Instagram Stories daily, and thus, it isn't going anywhere anytime soon.
If they haven't already, brands will need to be more structured and prepare for Stories as a storytelling format in their publishing calendars. More significantly, the video will become more common as a Story format as it outperforms simple pictures.
4. Social Commerce Will Be Massive
Look at the social commerce trends over time, created by Smartinsight: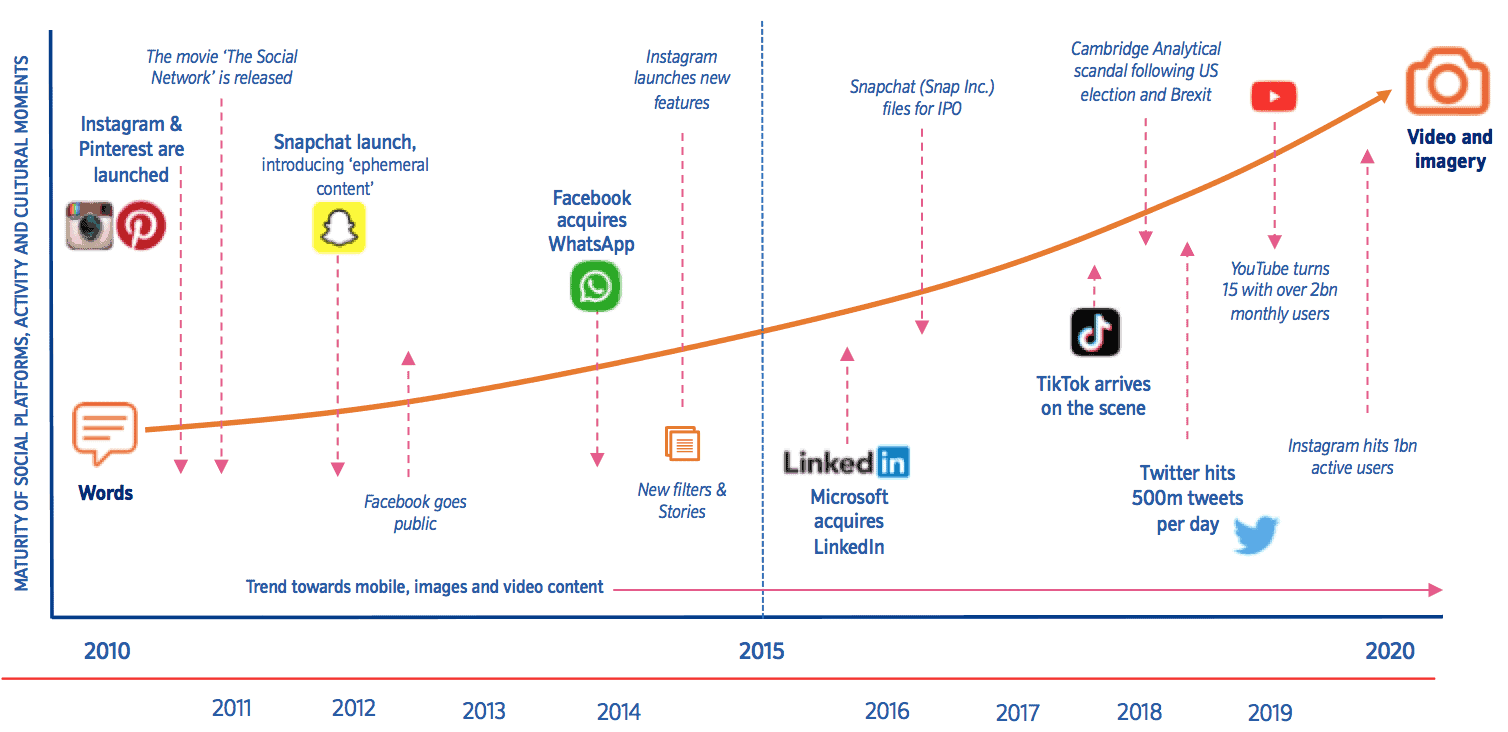 It's interesting to see how some of these trends have shaped our ecommerce space and drive innovation in social media beyond communicating with friends and family. It was only a matter of time before e-commerce and social media merged, and 2020 was the year that their union became mainstream.
Timewise, Gen Z spends up to three times longer shopping on social media compared to the average shopper, with the majority of the time spent on Instagram and Snapchat, where influencers are a major driving force. In 2019, 42% of 18-34-year-olds engaged in social commerce daily. 2021 is expected to continue the growing trend, with social commerce being seen by more brands as an integral element for a better online presence.
5. Customer Service Will Further Utilise Chatbots
People used to shudder at the thought of conversing with a robot, preferring to avoid the pre-recorded flowchart-like experience and instead converse with a real person. When business owners learn that chatbots can connect with many customers at once, operate without breaks or compensation, and never get tired, they'll be eager to try the technology. There's no better time to try out chatbots in 2021 than now because they'll help you enhance the customer experience, build confidence, and boost your bottom line.
6. Flexible Strategies Fuel Facebook Ads Success
When customers can no longer buy online or shop in-store for holiday gifts, Facebook marketers typically see a significant reduction in advertisement costs (CPM). Between the decrease in consumer spending and the decrease in market competition, there is a sweet spot.
Purchases begin to change from gift-giving to self-improvement after the holidays. Under normal circumstances, as people make New Year's resolutions and try to uphold them, they gravitate toward purchases that will change their lives. Some B2B retailers offer steep discounts to entice companies to make large-ticket sales at the end of the year to reduce their tax liability. People are still buying, but they are purchasing different products.
That could change if a global pandemic of unparalleled economic consequences strikes in 2020/2021. If 2020 has taught us something, it is to be ready for unprecedented shifts and pivots, because success belongs to the nimble.
7. Social Messaging Will Be More Common
Rather than sharing on their feeds, many social media users choose to send messages. Consumers also use Facebook, Instagram, and Twitter's text messaging and direct messaging features to communicate with brands. This behaviour is due to a growing desire among users to communicate virtually on a more human level. We would expect users to communicate with brands and create networks in 2021 as a result of the widespread use of social messaging in 2020.
Social media is also a very flexible medium. Social media can be used to file grievances, position online orders, ask questions, and more, in addition to personal conversations. Brands can also advertise their products and services for free using messaging channels like WhatsApp. By the way, here is a complete guide to Social Media Marketing to get you started.
The social media ensemble that we have today has proven to be a powerful and precise marketing tool for many brands, but the digital landscape can fluctuate and change at a moment's notice. It's up to marketers to keep tabs on the constant updates, additions, and happenings that revolve around social media platforms to build better strategies and fine-tune campaigns.