Recently, more and more people are showing increased interest in learning how to code.
It's not just those who want a coding career either — we're seeing inventors, creatives, entrepreneurs, people from literally all walks of life, who see coding as an alternative option that will allow them to achieve their dreams.
With that being said, while most people now know they want to learn to code, many of them aren't quite sure where to start.
Online self-study? A coding bootcamp? A computer science course? Books? I took a moment to run a quick search on Quora, and got a plethora of questions from potential  coders: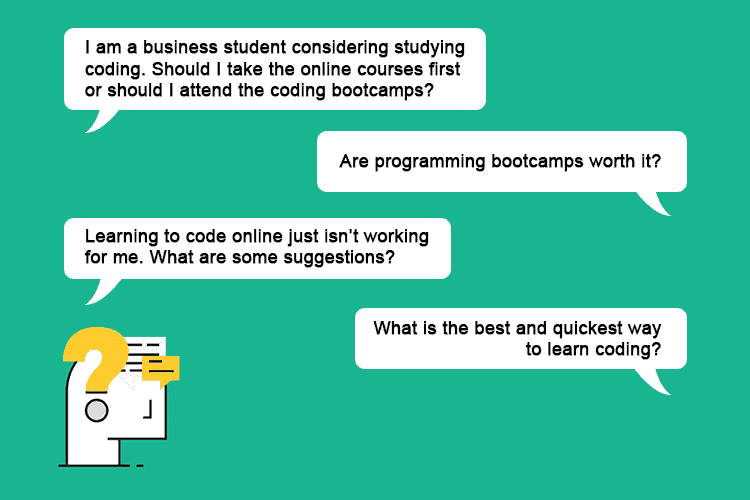 If any of those sound like you, then read on.
Online Course or Coding Bootcamp? What's the best way to learn how to code?
There are many different ways for people to start learning to code, the most convenient and popular of which would be:
Taking a coding course online
Signing up for a coding bootcamp
Of course, there are other methods as well, but if we were to break it down, these are usually less viable than the first two I mentioned:
Learn-to-code books – Many coders have found these to be largely unhelpful for beginners. Books are more helpful for those who already have some knowledge of coding, as supplemental material to what they already know. If you're just starting out, it's best to find another method of learning. Consider this: Would you find it easy to learn Spanish from a book with no prior knowledge of the language?
Forums/online communities – The effectiveness of this would depend on the community, which differs according to the people who make it up. Some online communities might be very helpful, while some may be less responsive. Either way, you'll definitely have to take your time and self-learn, as they won't be there to teach you everything from scratch.
Computer science degree – Most computer science courses take at least 3-5 years to complete, and the university fees would most likely not be cheap. Depending on the syllabus, you may also find yourself studying topics that are related to programming, but not really relevant to the current industry status. (Still, every coder should probably have a good grasp of the history of programming, right?)
So as mentioned, your best options would be between an online coding course or a coding bootcamp, especially if you're just getting started. And if you're wondering which would be better between the two, I'd highly recommend investing in a coding bootcamp.
Here are our arguments as to why:
1. Coding Bootcamp: You learn better than you would on your own.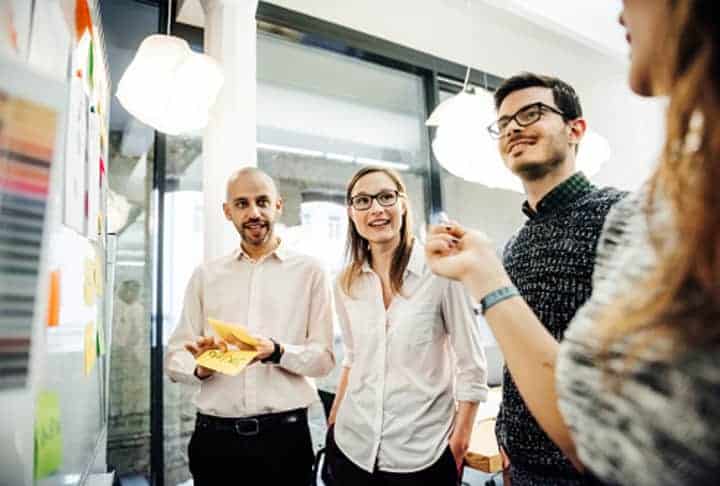 While there are many resources (online and offline) for people to study coding on their own, it can be challenging due to the sheer amount of information available. When studying on your own, it's easy to get overwhelmed, demotivated and confused. And if you're ever stuck or unable to understand a concept, it can be tough to figure things out by yourself.
‍In a bootcamp environment, not only would there be instructors around to mentor you, but there are also other students. You'll be able to ask questions and get advice.
‍Also, studies have shown that when you teach other people, you'll be better able to grasp concepts and learn new things. By discussing with other students and explaining things to someone who may need help understanding, you'll also be helping yourself to internalize what you've learned.
2. Coding Bootcamp: It's better for motivation.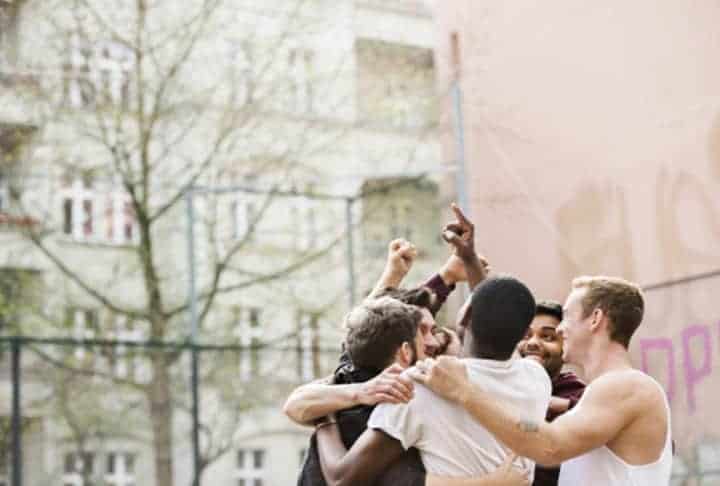 Coding isn't easy. Like any subject, it usually starts off easy and then starts getting more complex as you delve deeper, and that's when people start to get discouraged and give up.
For many coders, it's important to have a good support network made up of like-minded people who share their interests and passion for what they're learning and doing.
‍Who better than your fellow coding bootcamp students to encourage and motivate you, and help you stay on track?
‍More than just reminding each other to complete your tasks and homework, it's about having friends who can help push you to be better and work together with you to solve problems.
3. Coding Bootcamp: It's great for learning how to work on a team.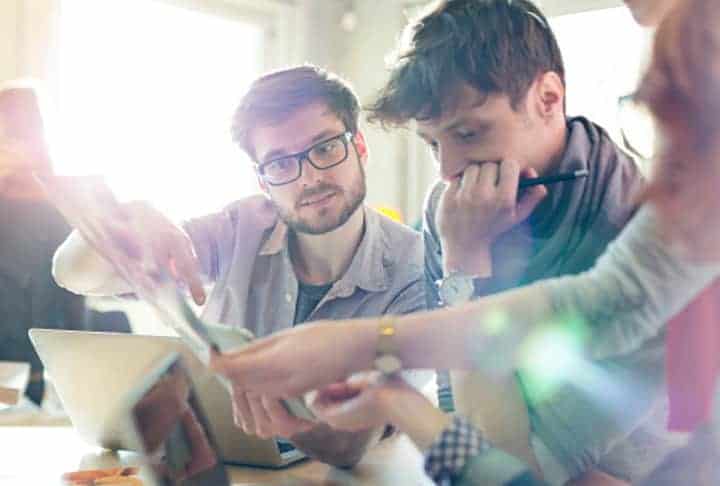 If you're learning how to code, chances are your end-goal is to eventually work as a software developer or in a similar line of work. And even if you don't plan on working in the tech industry, you'll still probably end up working with a team of people.No piece of software is coded by just one person. Coding is often a team effort.
‍By learning and coding with others at a coding bootcamp, you'll learn how to collaborate with others to accomplish a common goal.
‍Also, creativity and innovation is more easily sparked through collaboration. By working with people from many diverse backgrounds and perspectives, you'll be able to expand your thinking and see things from different points of view.
4. Coding Bootcamp: The learning will be fast and high-impact.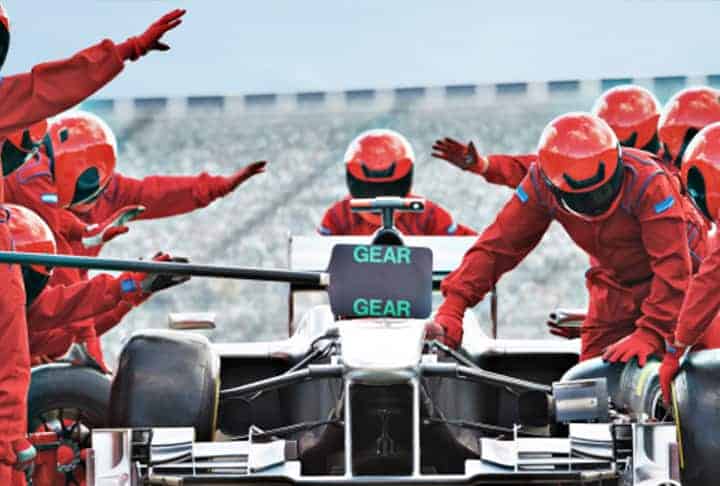 Most coding bootcamps run for about 10-12 weeks on average. Compared to online courses and computer science courses in universities which may take longer to complete, a coding bootcamps curriculum focuses only on the important and relevant topics that students would need to learn in order to build and launch apps on a professional level upon graduation.
In other words, their syllabus is meticulously planned and cuts out unnecessary fat, which makes for fast-paced learning.
Also, the coding bootcamp instructors are usually coders themselves, experienced people who work in the field, which means that everything taught is up-to-date with the current state of the industry and highly relevant.
5. Coding Bootcamp: You get access to networking opportunities.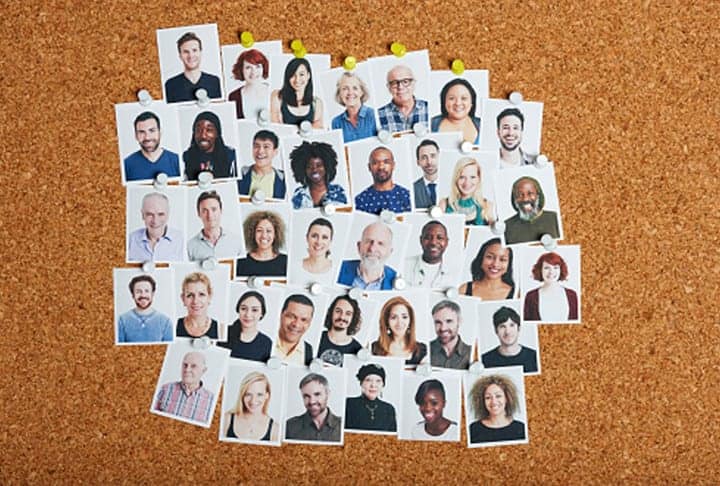 Coders and programmers thrive in communities, and can greatly benefit from having a large network of fellow coder friends. At a coding bootcamp, you'll meet a ton of different people from different backgrounds and diversities.
‍These people could be future partners, colleagues, teammates, employers, or clients, and with the right connections, it could help you open doors to great opportunities.
‍I'm not saying you have to go up to people every day and sell yourself and your skills. However, there's no harm in making friends and talking to people, and collecting contact details. Make plans to follow up with people and keep in touch once the bootcamp is over. You never know who you'll meet.
To sum up:
Online Course vs Coding Bootcamp
‍
Online Course
Flexibility of time and location
Self-study
Requires self-discipline and self-motivation
‍
Coding Bootcamp
‍Fast, high-impact learning
Mentor and peer-assisted study
Have a support network of fellow students to motivate and encourage
Syllabus is extensive, often covers a broad range of different coding languages and related topics
Syllabus is meticulously planned and covers languages and topics which are popular and relevant to the current industry status
Learn and locate opportunities independently
Gain access to diverse networking opportunities
Gain experience working independently
Gain experience working on/with a team
‍Whether you plan to work as a software developer in the future or want to learn to code for any other reason, a coding bootcamp can help you learn the skills you need, while also potentially opening pathways to new opportunities for you.
‍With that being said, make sure to choose the right coding bootcamp. Wherever you sign up, the bootcamp should help you to reach your personal and professional coding goal, empower you with the relevant technical skills that you need, and fees-wise, should not be beyond your financial capabilities.
If possible, compile a list of schools and compare fees, syllabus, location, and other factors. Take student reviews into account. If you feel skeptical of the feedback on the coding bootcamps own website or social channels, check out review sites like Course Report or SwitchUp where you can be assured of unbiased reviews. Inspired to sign up for a coding bootcamp? You can start researching our courses here: